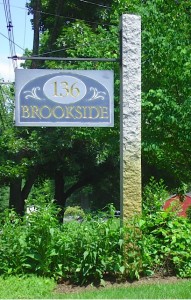 A third-generation family owned business that began in 1955, Brookside Company, Inc. is an installer and supplier of metal roofing and siding. For over fifty years, Brookside has been servicing New England contractors successfully completing over three thousand projects.
Founded by Richard Hoey, the business was originally based in Newton, Massachusetts. Today, Brookside's main headquarters – comprised of an office building and barn facilities – resides in Stow, Massachusetts. The current management team, father and son – Warren and Brian Hoey – have been running the operations since the early 80s. Warren began working at Brookside directly from his service years with the United States Navy in 1960. Brian joined in 1984 following his education at Wentworth Institute of Technology.
Brookside's customer base is large with the majority being repeat customers with whom the company has built strong relationships with over the years. Due to the trust built, Brookside is able to help early in the project process with budget estimates, design assistance and value engineering. No project is too small or large for Brookside's involvement. The same level of quality and excellence is expected with every project that we touch and it's our mission to have all of our customers completely satisfied so that the end results are the same – Brookside is your first choice for the next project.